I got the chance to have lunch today at the Beachhouse Grill in Kirkland after an invitation to a Taste and Tweet event. The idea is that as various dishes are brought out for us to taste, we would tweet our thoughts. Anyway, here is a little bit more expanded review with all the pics I took in one place…
First up: Mimosas
To be perfectly honest, I've never actually had a mimosa before today. My only previous experience with champagne at a wedding left me with a bad taste and the belief that I didn't like champagne. Well, whether that was just bad champagne at the wedding or adding orange juice to it that makes the difference, I can now say I do like champagne, at least when it's in a mimosa. GRADE: B
Appetizers:
Wild Spicy Prawns -
Wow, this was one of my favorite dishes of the day, wild prawns in a spicy cream sauce with grilled bread. The amount of heat was just right, spicy enough to add to the flavor without overpowering everything else. It was also the kind of smokey heat that I really like, think the taste of chipotle versus a straight jalapeno pepper. Spread over the bread it makes a great start to a meal. GRADE: A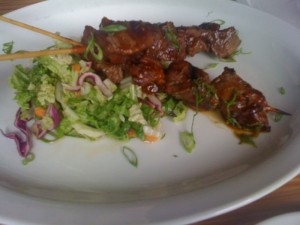 Tenderloin Skewers -
I was pretty excited for these because it's hard to go wrong with meat on a stick. There really isn't much you can mess up with that. Chef Ricky does a pretty good job here doing an overnight marinade and the flavor is excellent. However, of the two pieces I had, one was melt in your mouth tender and one was old shoe leather tough. So that was a little hit and miss. GRADE: B-
Crab Cakes -
Let me preface this bit by saying that crab just isn't my thing. I've always thought it tastes rather bland and boring. These crab cakes were no exception. The mango salsa and chili sauce were fine but not good enough to rescue it in my mind. GRADE: C+
Main Courses:
Beachhouse Burger -
If I could only have burgers from one restaurant for the rest of my life I think my search might be over. This was easily one of the best burgers I've ever had. And if you know me and how much I love to grill and experiment with overnight marinades and buffalo meat, you know I have pretty high standards for burgers. Excellent complementary flavors from the sweet caramelized onions, special sauce, melted boursin cheese, and soft fresh roll that serves as the bun. Highly, highly recommend and I will definitely be heading back for a full burger one of these days. GRADE: A+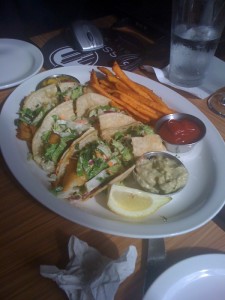 Beer Battered Halibut Tacos -
I don't know if it was the fact the burgers were just such a tough act to follow but this dish was a little bit of a let down. I like fish and I like tacos, but these were just a little bland. I think I'd rather just have straight fish and chips. That said, the sweet potato fries served on the side were absolutely wonderful. Such a fun new taste and take on a pretty standard side dish. The avocado salsa was also a nice change of pace from typical guacamole. GRADE: B on the tacos; B+ on the fries
Dessert:
Smores -
I don't think I've ever had smores in a restaurant. All I can say this… why hasn't anyone done this before? Chef Ricky mentioned he did get the idea first from a restaurant in Hawaii he once visited but seriously, every restaurant should do this. It was an awesome way to end a meal like little kids around the campfire blowing out our burning marshmallows before putting the chocolate and graham crackers together. And bonus points too for doing it right and using Hersey's rather than some fancy brand of Swiss chocolate. Smores might just be smores, but big points for presentation and execution! GRADE: A-
Conclusion:
So that about does it. I had a great time and was glad to meet some new friends while sharing a fantastic meal. I'm glad this place is only a few blocks from Northwest University because I definitely can see myself going back here for lunch or an early dinner. I forgot to even mention the restaurant itself. It's a cool old place that has been more refreshed than remodeled as the Beachhouse Grill but it has a fantastic location right on the water. We got a copy of the takeout menu and a couple of the dishes are a tiny bit pricey if you want to be picky but not by more than a dollar or two and they more than make up for it in the quality. All in all, I'd highly recommend the Beachhouse Grill for anyone looking for a casual dining experience on the east side. Thanks Chef Ricky and Taste and Tweet for a great event!